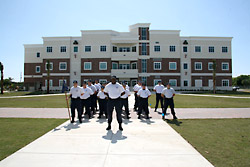 Criminal Justice Academy Track
This two-year degree program provides the student with the opportunity to obtain an Associate in Science Degree in Criminal Justice Technology and complete the Basic Law Enforcement Recruit Academy. Upon completion, students will be eligible for certification as a law enforcement professional in the State of Florida.
The Academy Track, A.S. Degree in Criminal Justice is a degree program in a para-military format designed to provide the student with the skills, abilities, and education for a successful law enforcement career. The dual track program will expose the student to a strong educational foundation in collegiate level general education and major field criminal justice courses while receiving training in law enforcement structure and discipline. The student will learn to function as a member of a team through drill instruction and team building exercises.
The final semester of the two-year degree program will include the Florida Law Enforcement Basic Recruit Academy. Participation in this final phase of training will be solely dependent on the student successfully completing the Selection Center process as required by all persons prior to entrance into the Basic Law Enforcement Recruit Academy. Upon successful completion of the Academy, the student will be required to pass the State of Florida Law Enforcement Officer Certification Examination.