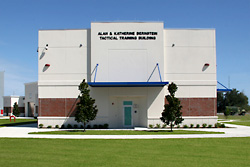 The 5,000 sq. ft., two-story Alan and Katherine Bernstein Tactical Training Building (photo) is constructed with moveable walls creating virtually any structural scenario imaginable for defensive tactics, hostage negotiation and tactical combat situations. Equipped with a mezzanine catwalk and fully functional rooftop, the building provides observation areas for scenario review and evaluation. Complimenting the tactical training in this Bernstein Building is:
A 40-foot deep by 4 acre fresh-water lake (photo) provides training opportunities for underwater search and recovery, accident staging and environmental mitigation
A Skid Pad (photo) trains students and professionals in tactical and defensive driving training; and

An outdoor agility course allows students to maneuver a multitude of obstacles to strengthen critical thinking skills and physical abilities.