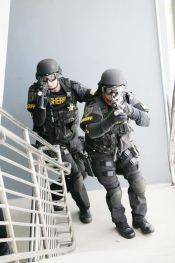 The Criminal Justice Training Institute at IRSC's Treasure Coast Public Safety Training Complex provides advanced and specialized training courses for certified law enforcement, correctional officers and agency personnel.  These courses assist criminal justice professionals in gaining new skills, improving current methods and further developing professional abilities to serve our local community.
Please review the latest Advanced and Specialized Training courses in the flyer below. Which has been updated as of 2/26/13.
For more information about the Advanced and Specialized Training Courses please contact Darren Mingear at
dmingear@irsc.edu
.