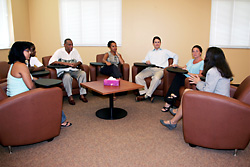 The Human Services Program is designed to prepare graduates for careers in many diverse settings including children's services agencies, victim advocate programs, substance abuse facilities, domestic abuse shelters, juvenile intervention programs, social services agencies, and mental health facilities.
Students in the program will learn techniques and strategies to assist clients in identifying problematic behavior and promoting positive personal growth.
Students will acquire both theoretical as well as practical expertise in the Human Services field. Major psychological theories, treatment modalities, ethical/professional issues, effective communication skills, and interviewing and intervention techniques are integral aspects of the program.
In-class skill-building exercises based on simulated scenarios promote easier application of classroom skills in the workplace. A Human Service Internship provides actual on-the-job work experience for which students receive course credit.
Students completing an Associate of Science degree in Human Services at IRSC can further advance their education through one of three Bachelor of Science degree programs at IRSC.