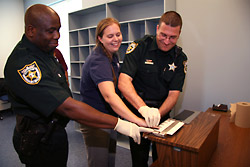 The Indian River State College, Criminal Justice Institute is certified by the Florida Department of Law Enforcement to conduct authorized Criminal Justice Standards and Training Commission courses, to include the Correctional Officer Basic Recruit Training Program, or more commonly known as the Corrections Academy. Correctional officers are responsible for the care, custody and control of all prisoners placed into county jails or private and State correctional facilities.
The Correctional Officer Basic Recruit Training Program consists of 444 hours of training and lasts approximately four months. This program is generally offered once or twice a year, depending upon student or regional agency demand.
Student-recruits wear academy uniforms and participate in a highly structured and disciplined classroom environment. This program generally meets Monday-Friday, from 0745-1700 and currently costs $2,064 for Florida residents. This amount is not inclusive of Selection Center testing process fees.  
Applications for the next Corrections academy are being accepted now. Please go to the Starting Your Career section and schedule an appointment to take the Basic Abilities Test (BAT) and the Physical Abilities Test (PAT) to start the screening process.
For more information about the Correctional Officer Basic Recruit Training Program, contact: